Bioelectrochemical Systems | Dr. Sven Kerzenmacher
Micro Energy Harvesting – Energy Efficiency – Biofuel Cells
Quicklinks: Competence | Examples of Application | Projects and Sponsors | Team | Important publications | In the Media | Partners
Competence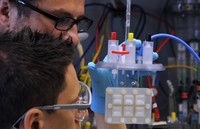 In an interdisciplinary team of biologists, chemists, and engineers, we develop materials and concepts for biofuel cells and other bioelectrochemical systems. Our area of work ranges from material screening and the construction of bioreactors to the development and characterization of complete systems designed for practical applications.
Examples of Applications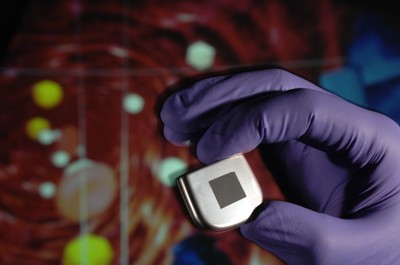 Energy self-sufficient operation of medical implants like pacemakers
We use noble-metal catalysts to generate electric energy from the direct electrochemical conversion of the body's own blood sugar (glucose) from the tissue fluid.

In the case of microbial biofuel cells, we use living microorgamisms like bacteria in order to generate electrical energy from waste water.
Projects and Sponsors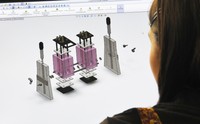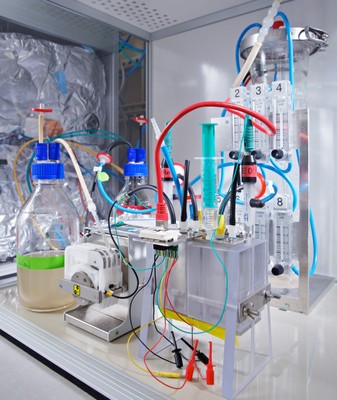 ESE-Biogas – Improving stability and efficiency of biogas production
BMBF Förderinitiative BioProFi, 01 Jul. 2012 – 30. Jul. 2016

Electrospinning
Fritz Huettinger Scholarship, 01 Apr. 2012 –31 Mar. 2014

Implantable Glucose Fuel Cell: DFG – Research Training Group "Micro Energy Harvesting," 01 Oct. 2006–31 Mar. 2016
Self-Regenerating Enzymatic Biofuel Cell: DFG – Research Training Group "Micro Energy Harvesting", 01 Oct. 2006 – 31 Mar. 2016
EmBBarK – Microbial Fuel Cell for Generating Electricity from Biogenic Waste: BMBF – Bioenergy 2021, 01 Oct. 2009–30 Sept. 2014
RePower – Microbial Fuel Cell for Operation in Waste Water: Baden Württemberg Foundation, Environmental Technology Research, 01 Sept. 2010 – 31 Aug. 2013
BioPower; EU, 01 Jan 2006 – 31 Dec. 2007





Quelle: T. Klink / BW Stiftung
Team
PD Dr. Sven Kerzenmacher, Group Leader
Said Abdu, PostDoc

Johannes Erben, PhD Candidate
Maxi Frei, PhD Candidate
Marielle Fink, PhD Candidate
Pavaris Viwatthanasittiphong, Master student
Zachary Pinder, Master student
Xinyu Wang, Bachelor student

Important Publications
S. Sané, C. Jolivalt, G. Mittler, P. Nielsen, S. Rubenwolf, R. Zengerle, S. Kerzenmacher: Overcoming Bottlenecks of Enzymatic Biofuel Cell Cathodes: Crude Fungal Culture Supernatant Can Help to Extend Lifetime and Reduce Cost, 2013, ChemSusChem, Band: 6, Nummer: 7, Seiten: 1209 - 1215
E. Kipf, J. Koch, B. Geiger, J. Erben, K. Richter, J. Gescher, R. Zengerle, S. Kerzenmacher: Systematic screening of carbon-based anode materials for microbial fuel cells with Shewanella oneidensis MR-1, 2013, Bioresource Technol, Band: 146, Seiten: 386 - 329
A. Kloke, C. Köhler, R. Gerwig, R. Zengerle, S. Kerzenmacher: Cyclic Electrodeposition of PtCu Alloy: Facile Fabrication of Highly Porous Platinum Electrodes, 2012, Adv Mater, Band: 24, Seiten: 2916 - 2921

Hussein L, Rubenwolf F, von Stetten F, Urban G, Zengerle R, Krueger M, Kerzenmacher S: A highly efficient buckypaper-based electrode material for mediatorless laccase-catalyzed dioxygen reduction, Biosens Bioelectron, 2011; 26: 4133-4138
In the Media

TV: SWR Fernsehen, Landesschau aktuell Baden-Württemberg, August 17, 2013: "Sauberer Strom mit Baumpilzen"
TV: ARD, Die große Show der Naturwunder, July 11, 2013

Newspaper: Süddeutsche Zeitung, Wissen, July 9, 2013, Energiequelle Blut
Magazine: "Weit Blick" – special edition, Baden Württemberg Stiftung / Bild der Wissenschaft: p. 22 -25 (PDF)
Online: dpad-Feature, 05 Oct. 2012: "Wissenschaftler nutzen menschliches Blut als Energielieferant", e.g. here
Magazine: www.baden-intern.de, July 2012, page 48,
Weekly newspaper: VDI nachrichten, Oct. 25, 2011
Radio: dradio.de: Forschung Aktuell, Sept. 07, 2011
Magazine: Wirtschaftswoche, Aug. 27, 2011
Partners …